2020 SHOW CALENDAR -

No shows in 2020

(for previous CANADIAN NATIONAL SHOW RESULTS click here)

From Webmaster:
AFFILIATES please send in your 2021 SHOW DATES and times.
---
May

Western Canadian Budgerigar Association, Spring Show - May 2, 2020 CANCELLED

CANCELLED Harmwsorth Hall, 7170 - 232 Street , Langley, B.C., Contact : poul_christiansen@telus.net

September

Hamilton & District Budgerigar Society, Burlington Lions Club, 471 Pearl St., Burlington

berniehansen@sympatico.ca - 905-388-7159 - http://www3.sympatico.ca/davehansen/ ........See poster below

September

Essex-Kent Cage Bird Society-Fogolar Furlan Club, Udine Building, Windsor. www.essexkentcbs.com

Julianne Mion: 519-948-6398-julianne@mnsi.net or David & Sue-519-727-3766-d.sylvestr@gmail.com .See poster below

September

The Hookbill and Foreign Bird Breeders' Association

, Bird Sale,

11am-3pm, Watsons's Mill, 5525 Dickson Street, Manotick, Ontario - Canaries, Finches, Grass parakeets

September

Northern Alberta Cage Bird Association, Balwin Community Hall -

CANCELLED Contact Jay Bunker at 780-458-8863 or Jean at 780-435-3594 ......See poster below

September

Canadian Assoc. of Colourbred Canaries, Brampton Fairgrounds, 12942 Heart Lake Road, Brampton

Contact: Claudio Gatto-647-778-0834, Rado Pagac-Rado.pagac@rogers.com .....

October

London & District Cage Bird Association -International Brotherhood of Electrical Workers Hall-www.ldcba.ca

CANCELLEDContact: Karen Dahl -807-632-1317, Mark Tiede-519-282-3065, Sergio Lima-519-200-6907 ...See poster below

October

Royal Alberta Cage Bird Club, Featherfest -10am-5pm, 11024 Oakfield Drive SW, Calgary. contact: CANCELLED or racbc.treasurer.gmail.com.....info also at http://www.racbc.ca/club-news

October

Canadian National - www.national-birdshow.com -

CANCELLED See poster below

October

American Singers Canary Club - Chapters 31 & 21 -

CANCELLED See information below

October 25-27

Canadian Avicultural Society - Etobicoke Olymium, 590 Rathburn Etobicoke - Ont

Contact: jlarocca@brtbcanada.com ........See poster below

No Show
Canadian Dove Association

October

Vancouver Island Cage Bird Society, Saanich Fair Grounds.

CANCELLEDContact: https://www.vicbs.ca/ --Questions Contact Reg Nixon at: regnixon@shaw.ca

November

BC Bird Clubs Classic, South Delta Recreation Center, 1720 56 Street, Tsawwassen, British Columbia

CANCELLEDGreater Vancouver Canary & Finch Club with Western Canada Budgerigar Association .... See poster below
---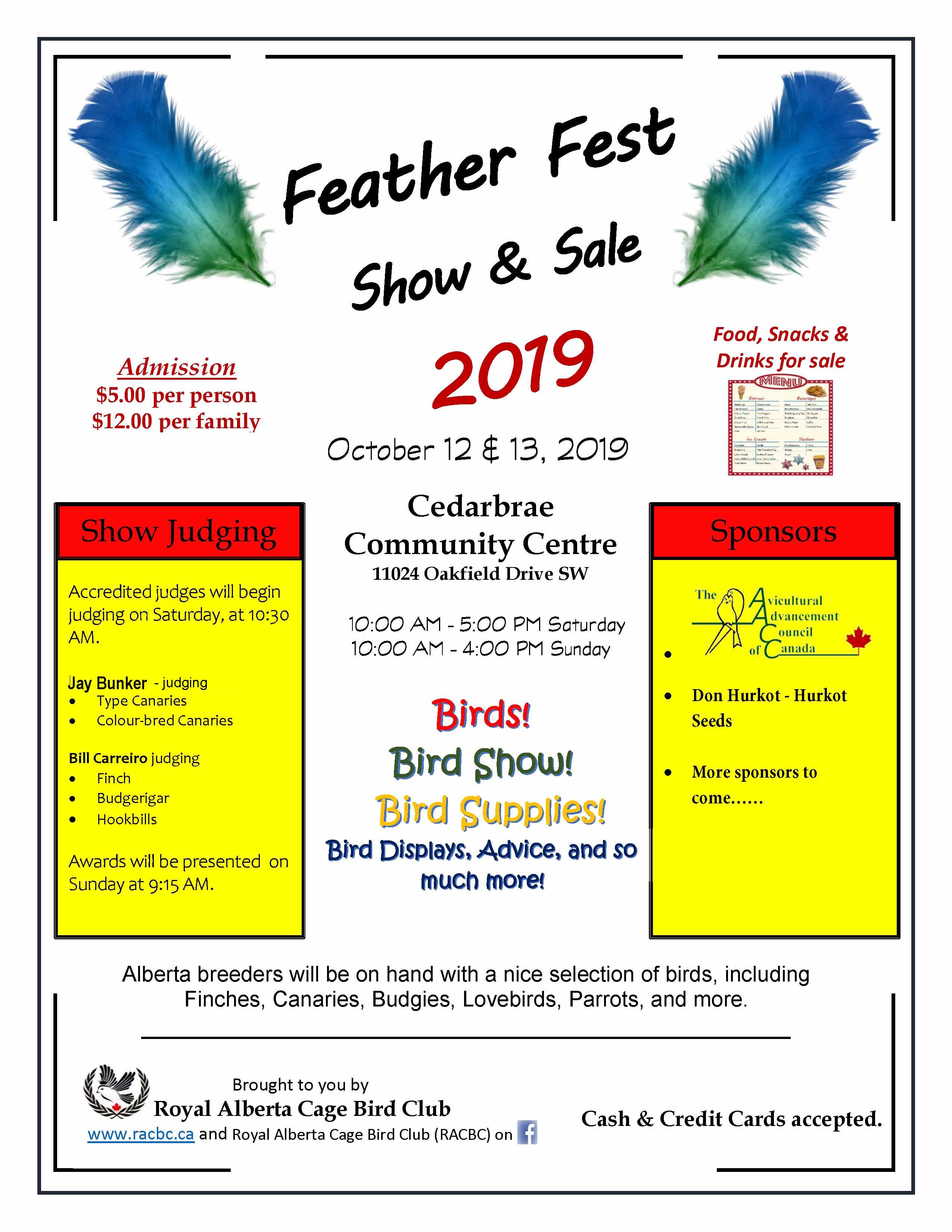 ---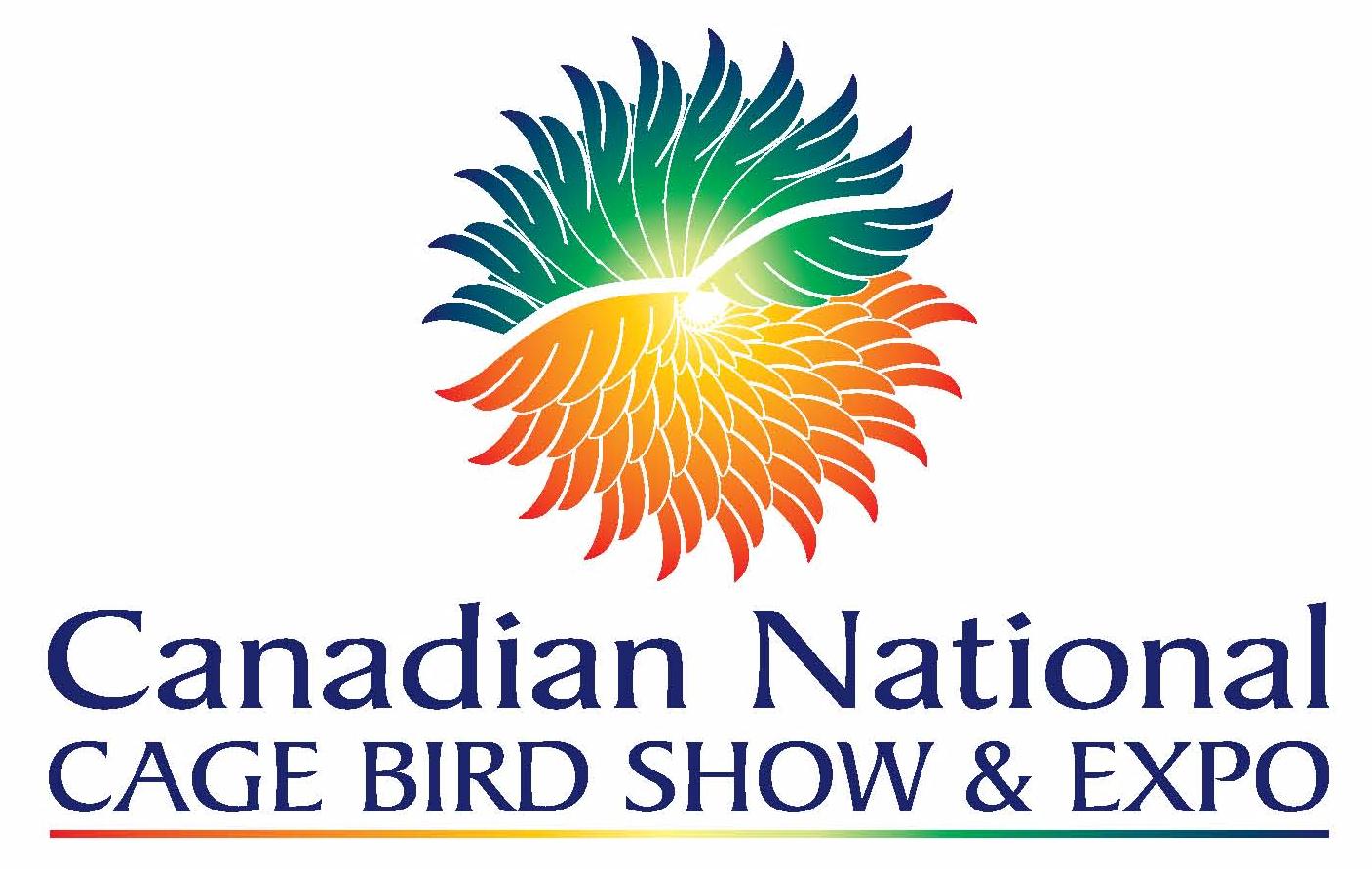 ---
Please be advised that the 2020 Canadian National Bird Show has been cancelled due to the ongoing pandemic. At this time our hall is closed until September 30, 2020 and it would be impossible to organize our show in just 2 weeks should it reopen October 1 and there is no guarantee that it will reopen on that date.

As we navigate these uncertain times we must pay heed to the Government's instructions. The health of our exhibitors, judges, vendors and visitors must come before our desire to show our birds. We have considered all aspects of having a show but there are too many hurdles to go over and health being the overwhelming obstacle. We have thus come to this decision in the best interest of all of the participants.

We wish you all a safe year and look forward to meeting you all at next years Canadian National on Oct 15-17, 2021.

Stay well, stay strong
The National Show Committee.
---
American Singers
Canary Club
of Canada (Chapter 31)

October 19-20 2019

AMERICAN SINGERS DOUBLE HEADER

The American Singer Canary Club of Canada Chapter 31 is Hosting a double show this year,

Registration is Friday Oct 18, 2019 4:00pm - 8:00pm,

Cost $10 per bird for both shows.

Contact: Marcel Ferrazzi: marcelferrazzi@hotmail.com

The American Singer Canary Club of Canada Chapter 21 is hosting their show

Registration is Friday Oct 18, 2019 4:00pm - 8:00pm, Cost $5 per bird

Come hear these wonderful birds compete.

Richmond Green Sports Center


Checkout: October 20 @ 3:00 PM (after raffle and bird auction), earlier for long distance (over 100 miles) breeders


---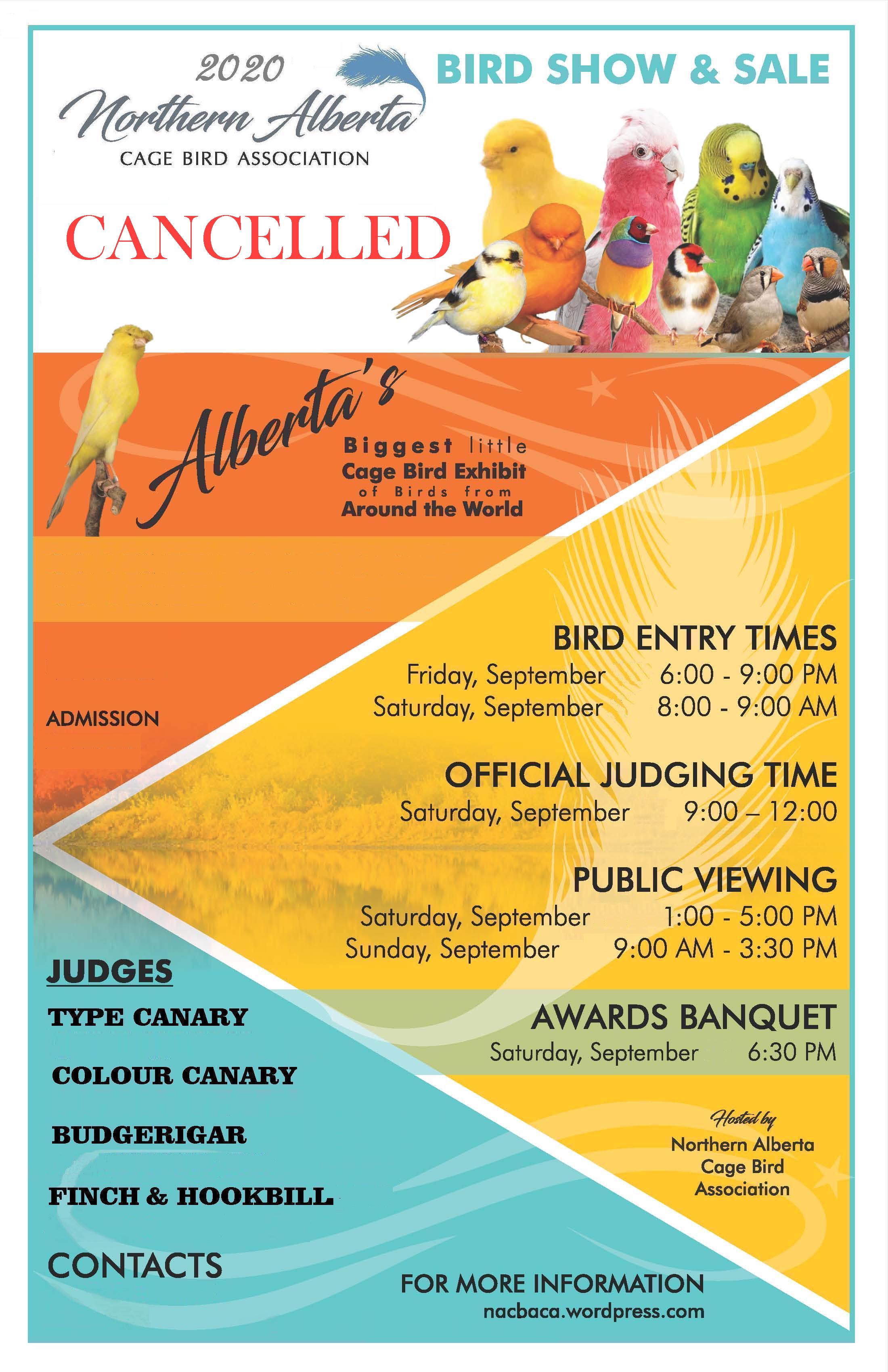 ---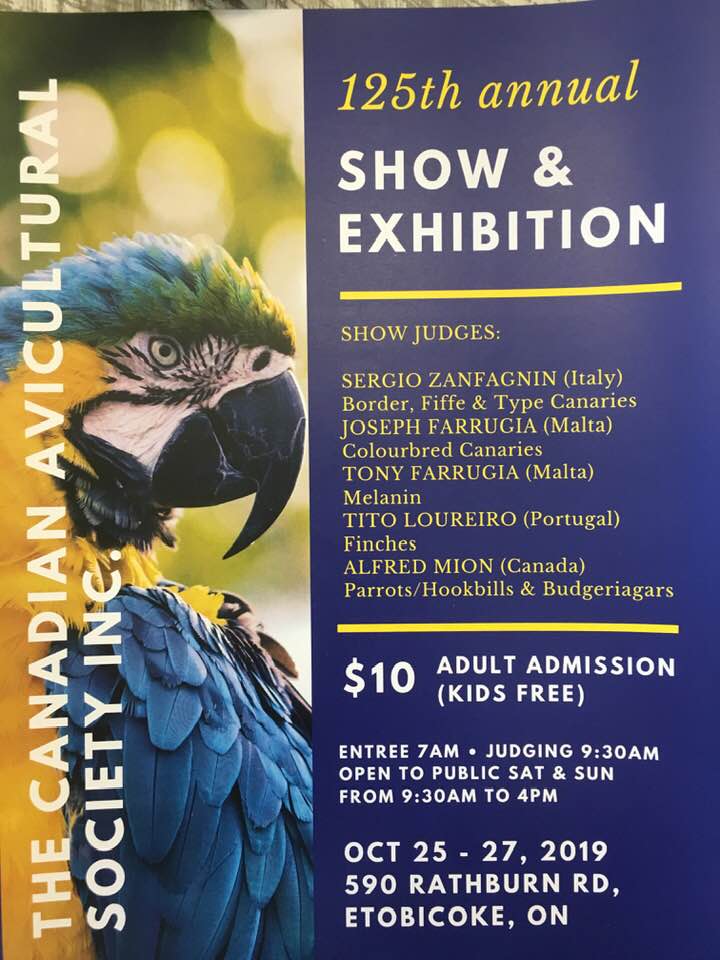 ---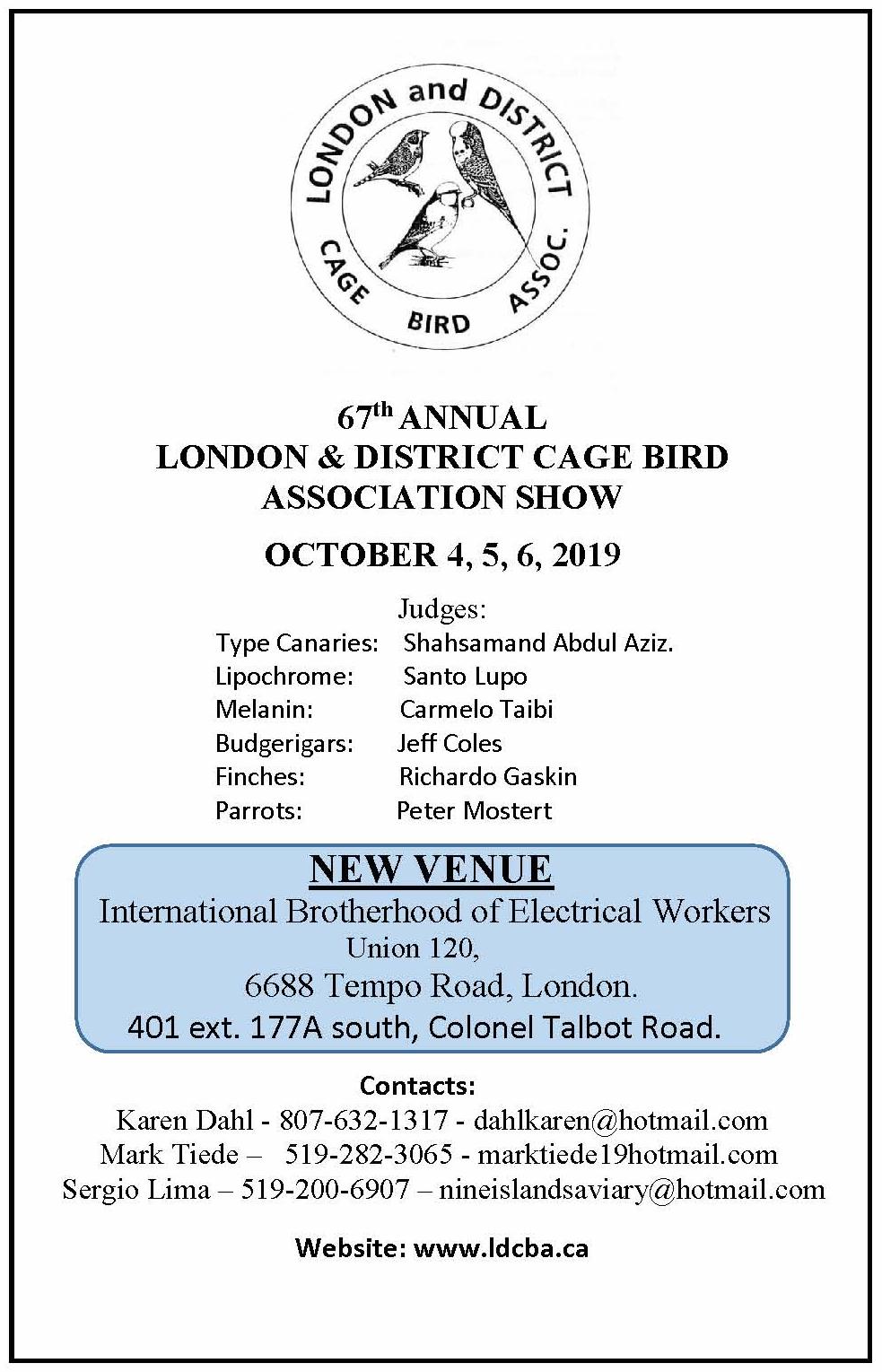 ---
---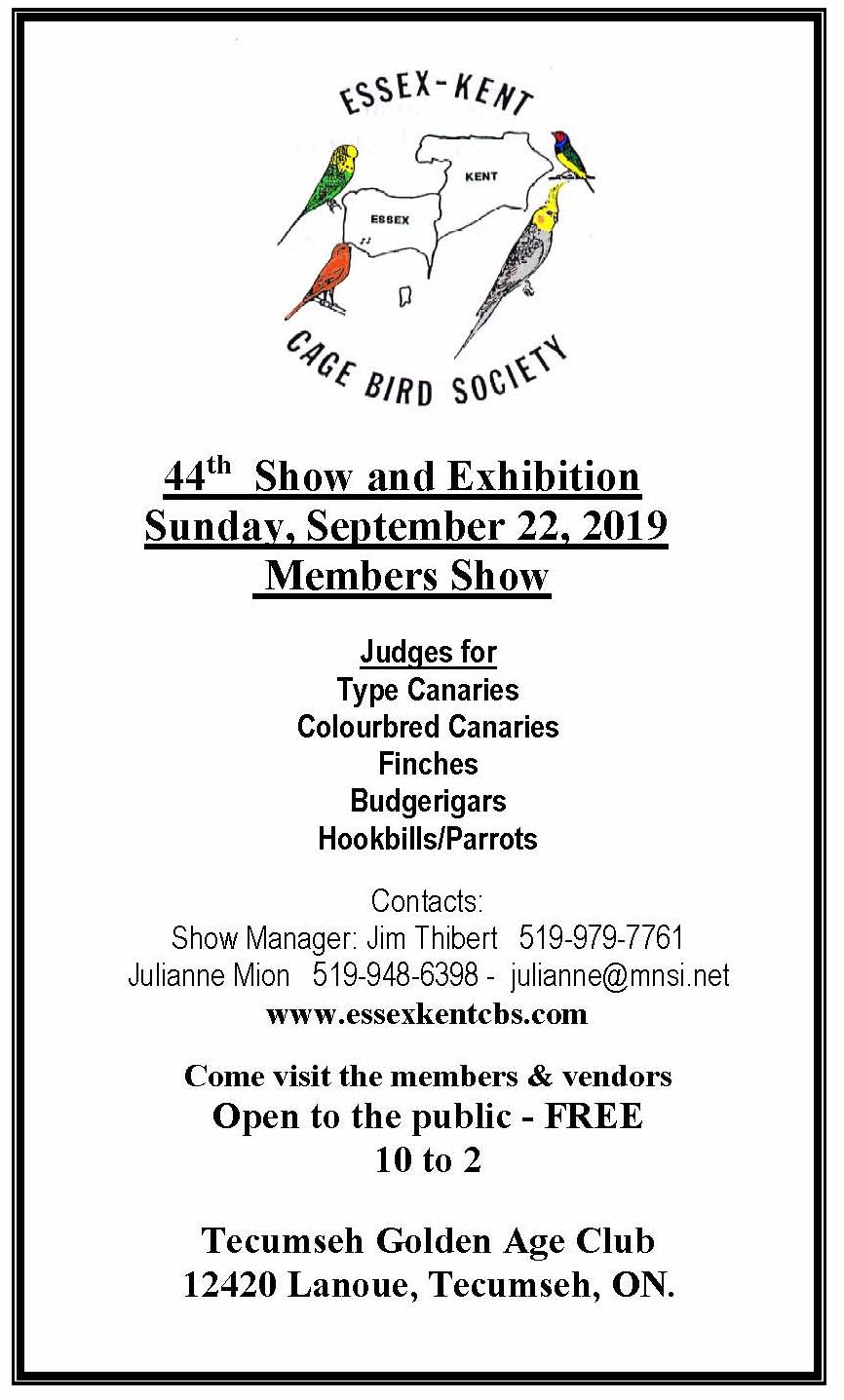 ---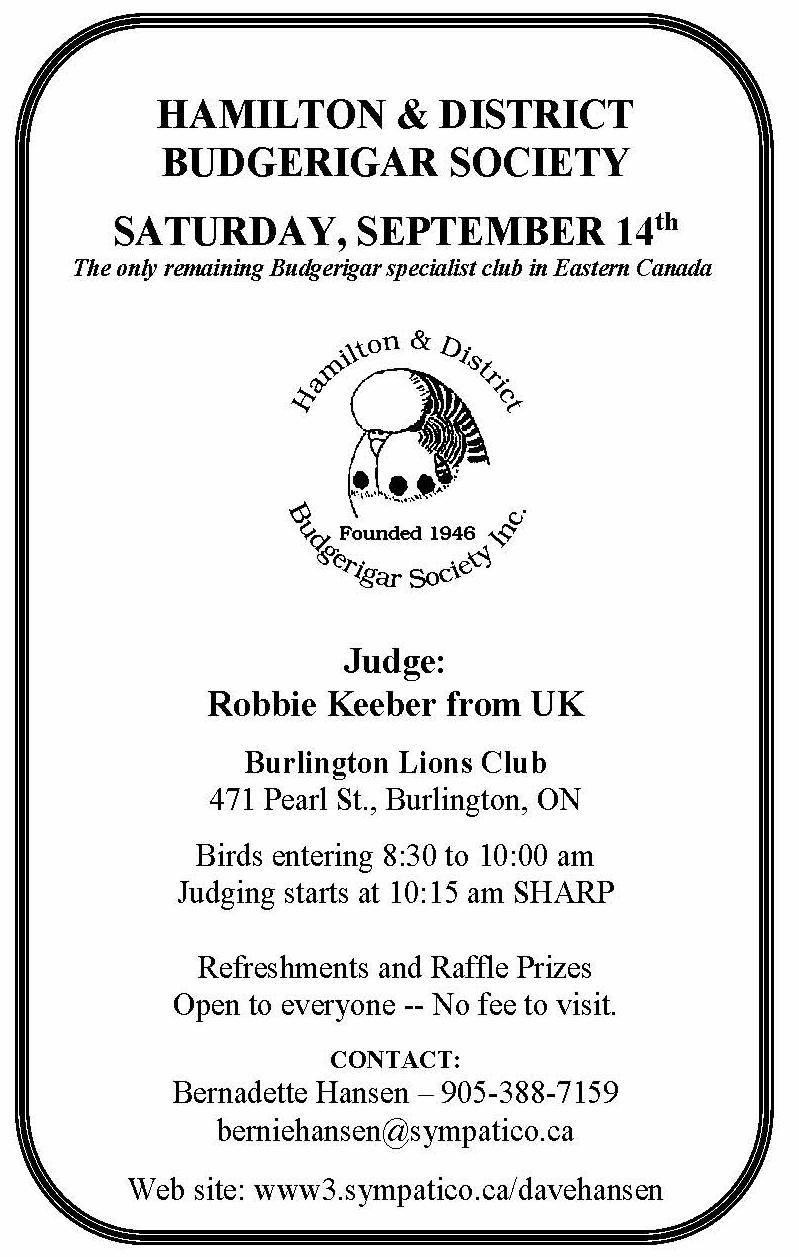 ---
---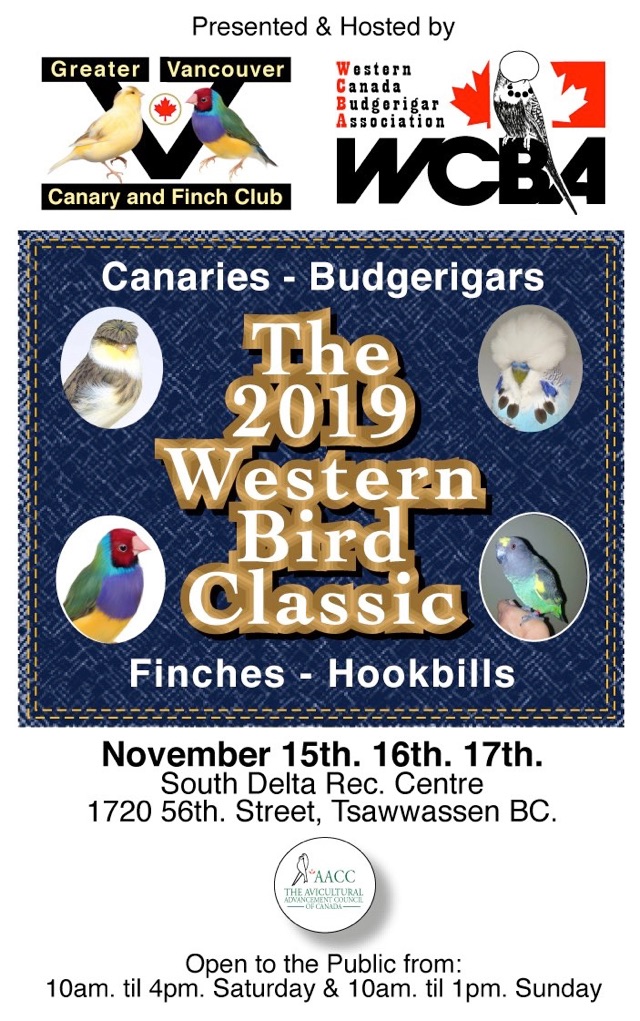 If you know of a show that you would like listed here, please send it to Webmaster with the date, place and show contact name. Thank you.