2018 SHOW CALENDAR

(for previous CANADIAN NATIONAL SHOW RESULTS click here)

From Webmaster:
AFFILIATES please send in your 2018 SHOW DATES and times.
---
August 25
Royal Alberta Cage Bird Club, Featherfest -10am-5pm, 11024 Oakfield Drive SW, Calgary. http://www.racbc.ca/club-news
September 9

The Hookbill and Foreign Bird Breeders' Association , Bird Sale, 11am-3pm, Watsons's Mill, Manotick, Ontario - Canaries, Finches, Grass parakeets

September

Hamilton & District Budgerigar Society, Burlington Lions Club, 471 Pearl St., Burlington

berniehansen@sympatico.ca - 905-388-7159 - http://www3.sympatico.ca/davehansen/ ........See poster below

Sept 22-24

Essex-Kent Cage Bird Society-Fogolar Furlan Club, Udine Building, Windsor. www.essexkentcbs.com

Julianne Mion: 519-948-6398-julianne@mnsi.net or David & Sue-519-727-3766-d.sylvestr@gmail.com .See poster below

Sept 28-30

Northern Alberta Cage Bird Association, Balwin Community Hall -

Contact Jay Bunker at 780-458-8863 or Jean at 780-435-3594 ......See poster below

October 6-7

London & District Cage Bird Association - St.Justin Church-Merrill Hall-www.ladcba.org

Stephen Mycock - 519-652-2087-dellerrose@gmail.com-Andrew and Daniel Brihante-226-750-0919 See poster below

October 13-14

Canadian National - www.national-birdshow.com -

See poster below

October 13-15

American Singers Canary Club - Chapters 31 & 21 -

See information below

October 26-28

Canadian Avicultural Society - Etobicoke Olymium, 590 Rathburn Etobicoke -

See poster below

October

Vancouver Island Cage Bird Society, Juan De Fuca Recreation Center, 1767 Island Hwy, Victoria

Contact: https://www.vicbs.ca/

November

Canadian Assoc. of Colourbred Canaries, Brampton Fairgrounds, 12942 Heart Lake Road, Brampton

Contact: Claudio Gatto-647-778-0834, Rado Pagac-Rado.pagac@rogers.com .....See poster below

No Show
Canadian Dove Association
No Show
The Golden Wing Cage Bird Show
No Show
Ottawa Bird Fanciers
November16-18

BC Bird Clubs Classic, South Delta Recreation Center, 1720 56 Street, Tsawwassen, British Columbia

Vancouver Canary Club & Western Canada Budgerigar Association .... See poster below
---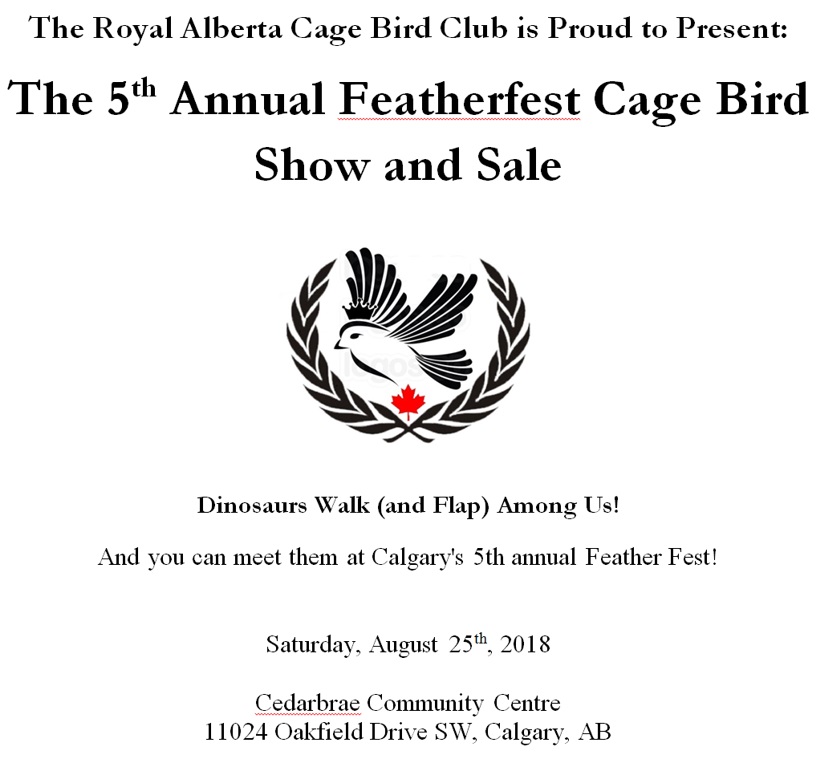 ---
WELCOME TO THE 2018 A.A.C.C. CANADIAN
NATIONAL CAGE BIRD SHOW & EXPO
Hosted by
The Budgerigar & Foreign Bird
Society of Canada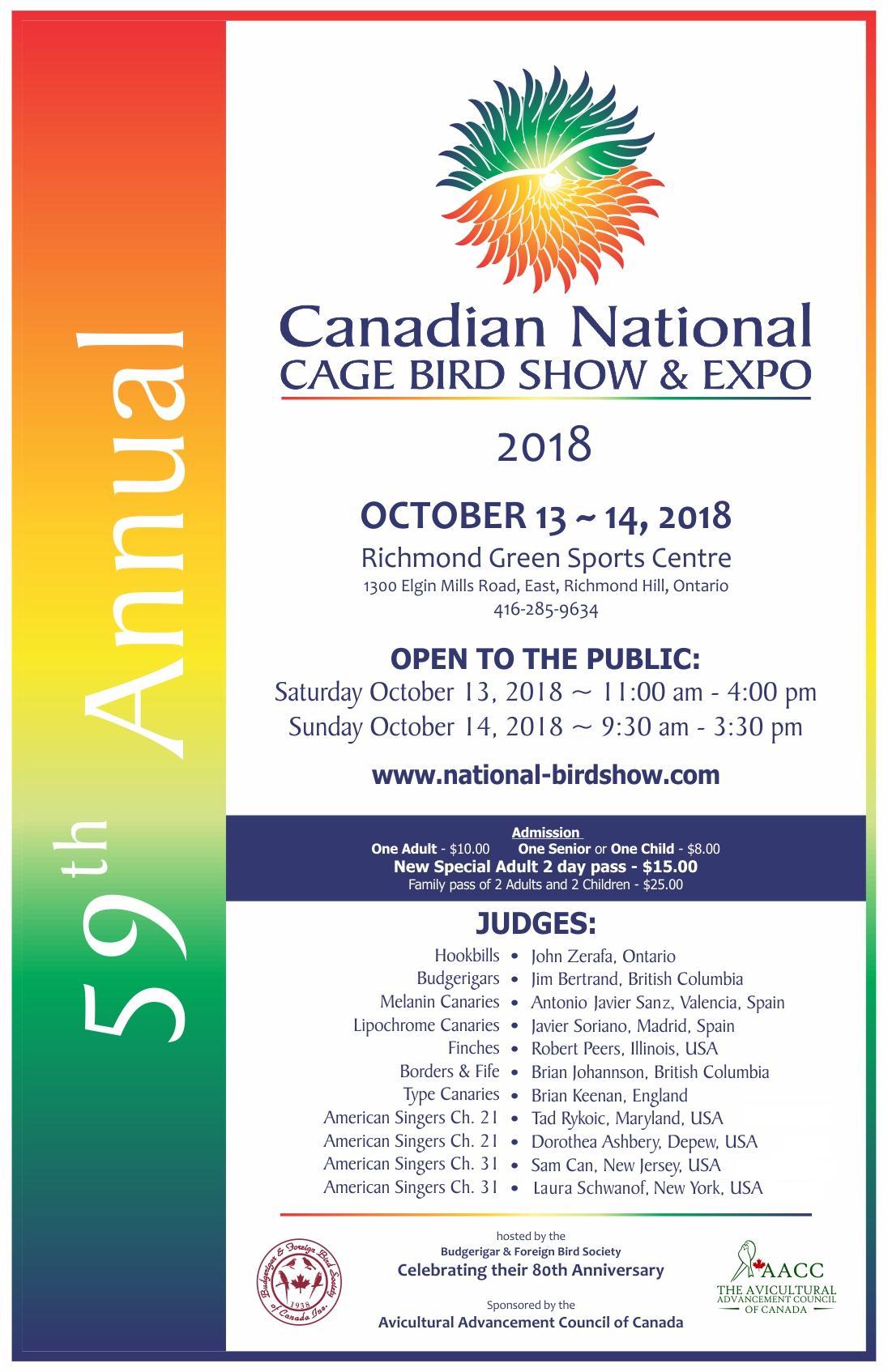 Bird Registration: Friday October 12, 2018 ~ 6:00 pm - 9:00pm
Saturday October 13, 2018~ 7:00 am - 9:00am(strictly enforced)
---
Admission: Adults- $10.00
Special Adult 2 day pass - $15.00
Seniors & Children- $8.00
Family Pass (2 adults & 2 kids)- $25.00
Judging starts at 10:00am
Birds For Sale
Birds may be offered for sale at the Show. The birds must be healthy, in a clean cage, there will be a maximum of 15 birds allowed in the cage, they must have adequate amounts of seed and water available in the cage. To sell any birds, you must purchase a "SALE BIRD LOT" in the sale bird area, the "SALE BIRD LOTS" are 3'long 30" wide and the price is as follows :
1. BFBS club members $30
2. Show Exhibitors $40
3. All others $50
All of your cages MUST fit on the table or you can choose to buy additional tables at the prices listed.
Please note the show manager can without explanation reject birds for any reason if he feels they are a threat to the event.
---
American Singers
Canary Club
of Canada (Chapter 31)

October 13-14, 2018

AMERICAN SINGERS DOUBLE HEADER

The American Singer Canary Club of Canada Chapter 31 is Hosting a double show this year,

Registration is Friday Oct 13, 2017 4:00pm - 8:00pm,

Cost $10 per bird for both shows.

Contact: Marcel Ferrazzi: marcelferrazzi@hotmail.com

The American Singer Canary Club of Canada Chapter 21 is hosting their show

Registration is Friday Oct 13, 2017 4:00pm - 8:00pm, Cost $5 per bird

Come hear these wonderful birds compete.

Richmond Green Sports Center


Checkout: October 15 @ 3:00 PM (after raffle and bird auction), earlier for long distance (over 100 miles) breeders


---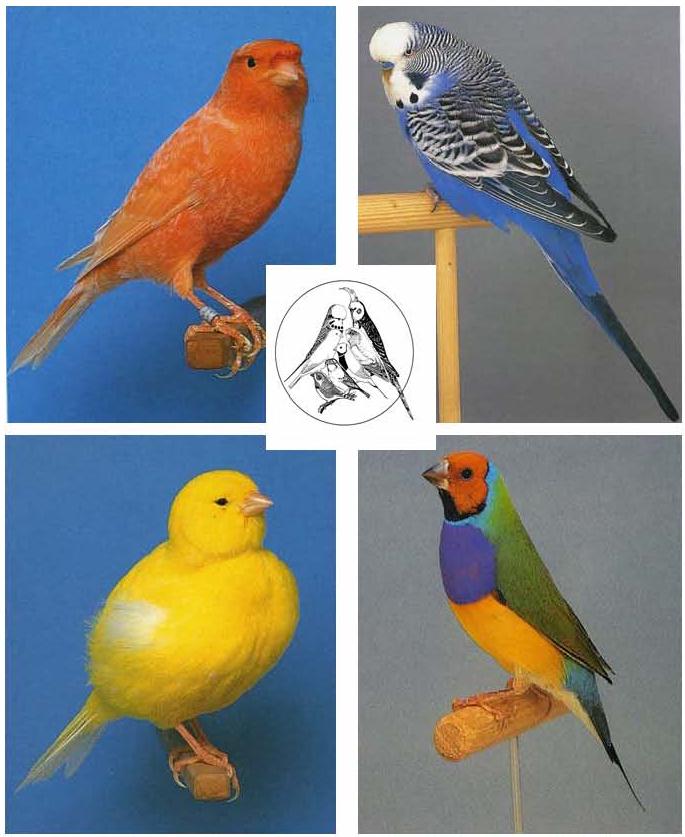 NACBA 25th Anniversary
Cage Bird Show & Sale

Hosted by the Northern Alberta Cage Bird Society
Alberta's Biggest Little Cage Bird Exhibit of Birds from Around the World
September 28 - 30, 2018
Balwin Community Leauge
12904 74 Street, Edmonton, Alberta Admission $5.00 Bird Entry: Friday, September 28, 6:00 - 9:00 PM
Saturday, Sepember 29, 8:00 - 9:00 AM
Official Judging: Saturday, September 30th, 9:00 – 12:00
Awards Banquet : Saturday, 6:30 pm
Public Viewing: Saturday, September 29th, 12:00 - 5:00 PM and
Public Viewing: Sunday, September 30th, 9:00 - 3:30 PM
Type Canary Judges : Jeremy Faria, Ontario
Colour Canary Judge : Bjarne Knudskov
Budgerigar,Finch & Hookbill Judge: John Zerafa, Ontario

For more information check our web site at
https://nacbaca.wordpress.com/
Contact : Jay at 780-458-8863 or Jean at 780-435-3594
---
The Canadian Avicultural Society Inc.
123rd Annual Show & Exhibition
Etobicoke Olympium
590 Rathburn Road, Etobicoke, Ontario
October 26, 27 & 28, 2018
Open to the Public on Sunday, October 29th – 10 am – 3 pm
JUDGES
BORDERS & FIFES: R

TYPE CANARIES: A

COLOUR BRED CANARIES:

Lipochrome: C

Melanine: Jl

FINCHES: J

PARROTS/HOOKBILLS: J

BUDGERIGARS: J
Registration: Friday, Oct. 26th * 7 – 9 pm (evening)
Saturday, Oct. 27th * 7 – 9 am (morning)
For more information contact:
Vito Ramundi--647-893-0890 ------Joe LaRocca--416-347-0676
---

65th ANNUAL
LONDON & DISTRICT CAGE BIRD
ASSOCIATION SHOW
OCTOBER 5, 6, 7, 2018
Judges:
Type Canaries: Pat Donnelly
Colourbred Canaries(Lipochrome): Aldo Bracco
Colourbred Canaries(Melanin): Giuseppe Maminno
Finch & Foreign Birds: Thom Roach
Budgerigars: John Zerafa
MERRILL'S HALL, ST, JUSTIN'S CHURCH
855 JALNA BLVD, LONDON, ONTARIO
Contacts: Stephen Mycock, Show Manager – Tel: 519-652-2087
E-mail: dellerrose@gmail.com
Andrew & Daniel Brilhante – S.M..Assistants - Tel: 226-750-0919
E-mail: andrew.0420@hotmail.com or daniel0115@live.ca
Website: www.ldcba.ca
---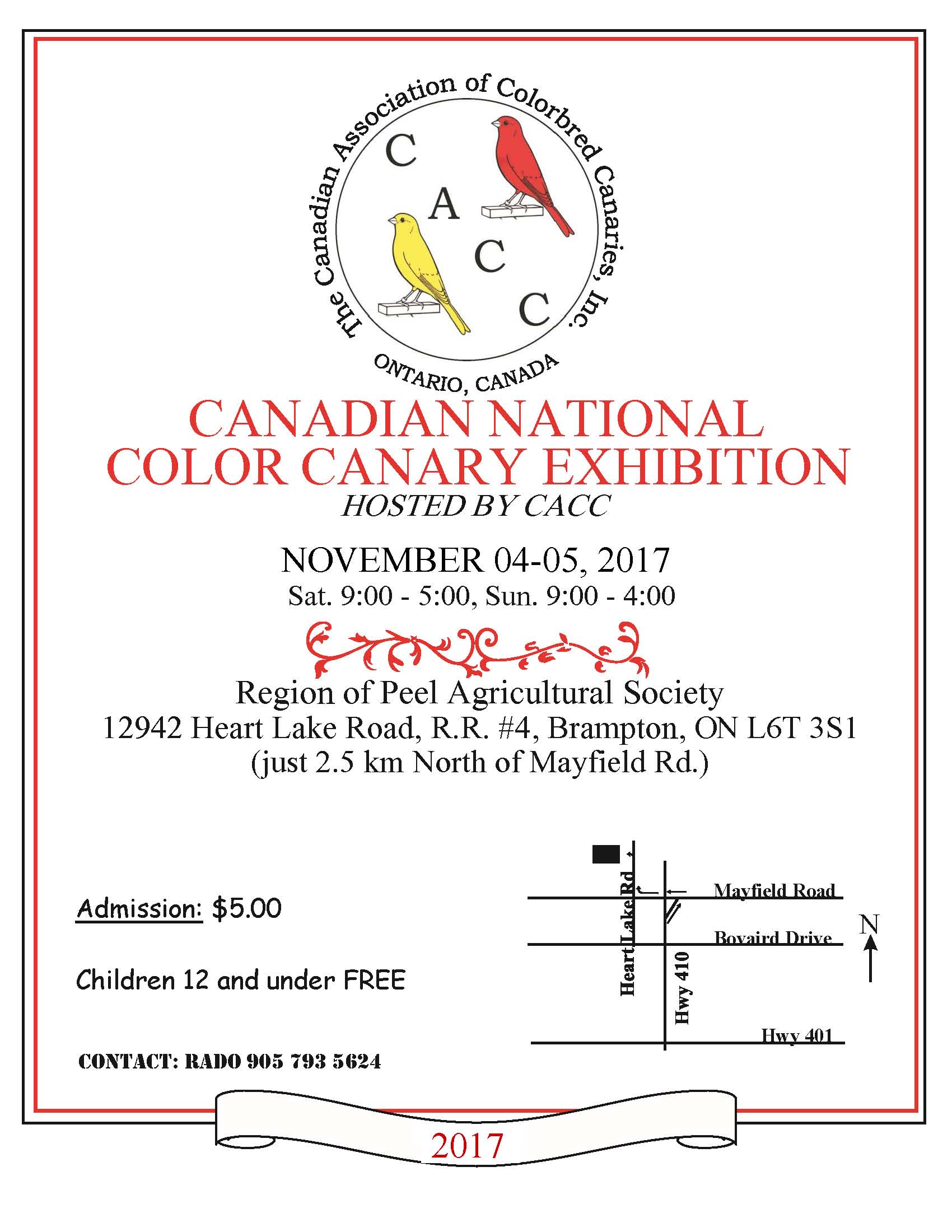 ---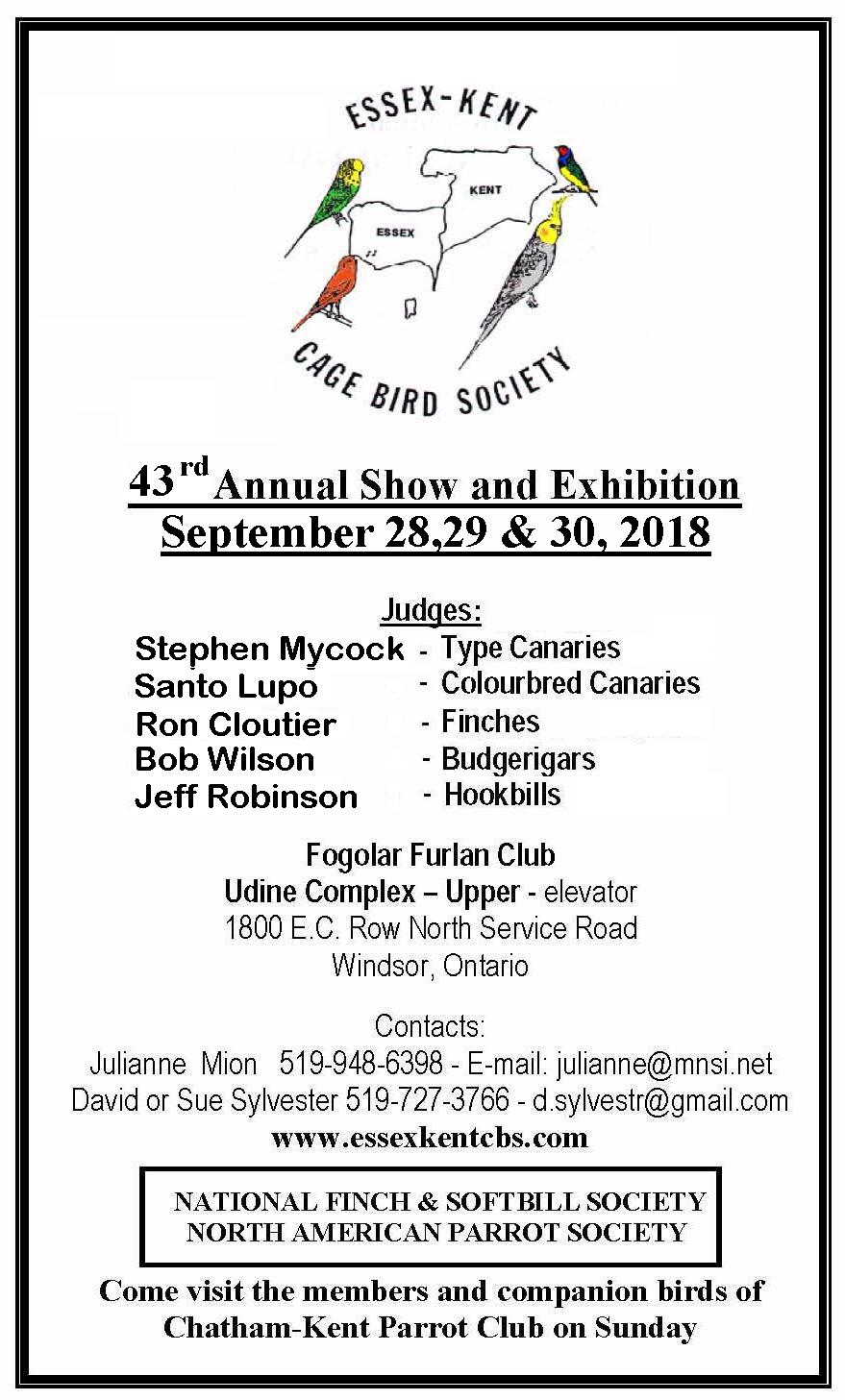 ---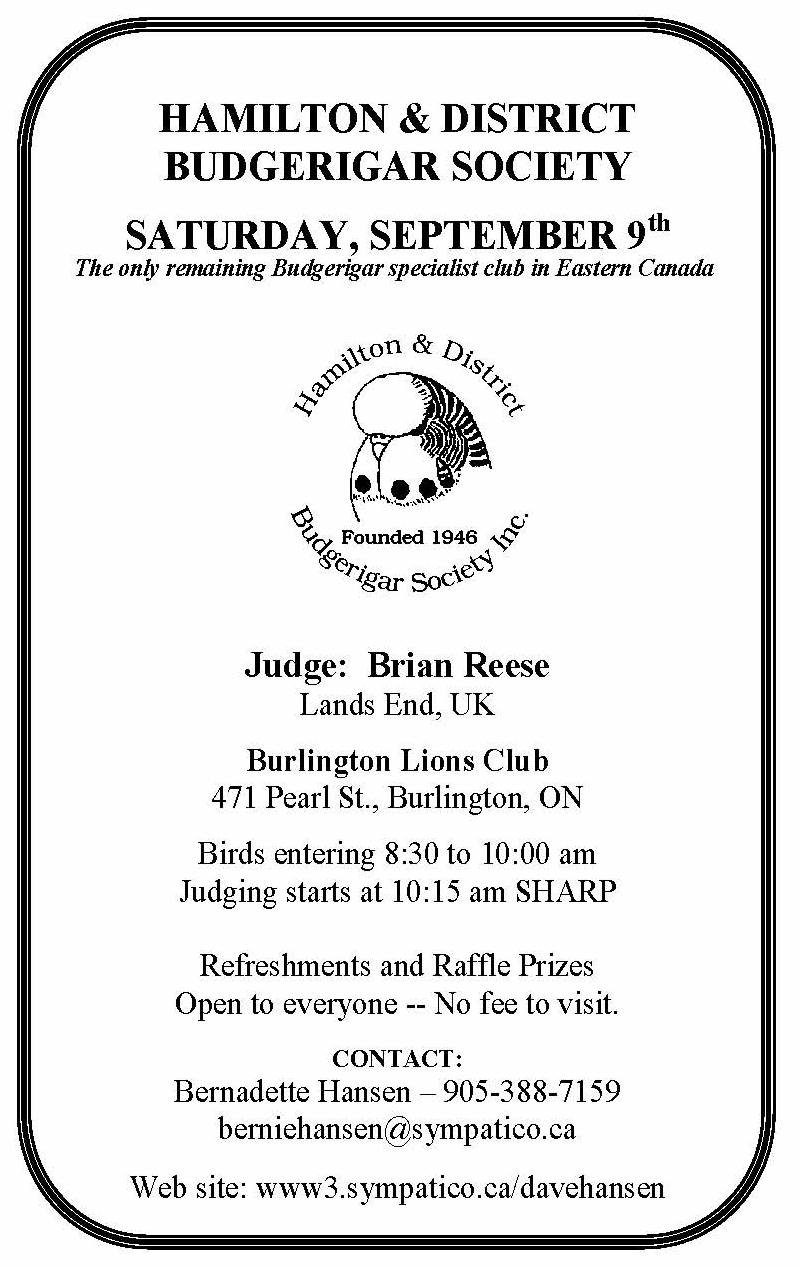 ---
---
If you know of a show that you would like listed here, please send it to Webmaster with the date, place and show contact name. Thank you.