2017 SHOW CALENDAR

(for previous CANADIAN NATIONAL SHOW RESULTS click here)

From Webmaster:
AFFILIATES please send in your 2017 SHOW DATES and times.
---
---
WELCOME TO THE 2017 A.A.C.C. CANADIAN
NATIONAL CAGE BIRD SHOW & EXPO
Hosted by
The Budgerigar & Foreign Bird
Society of Canada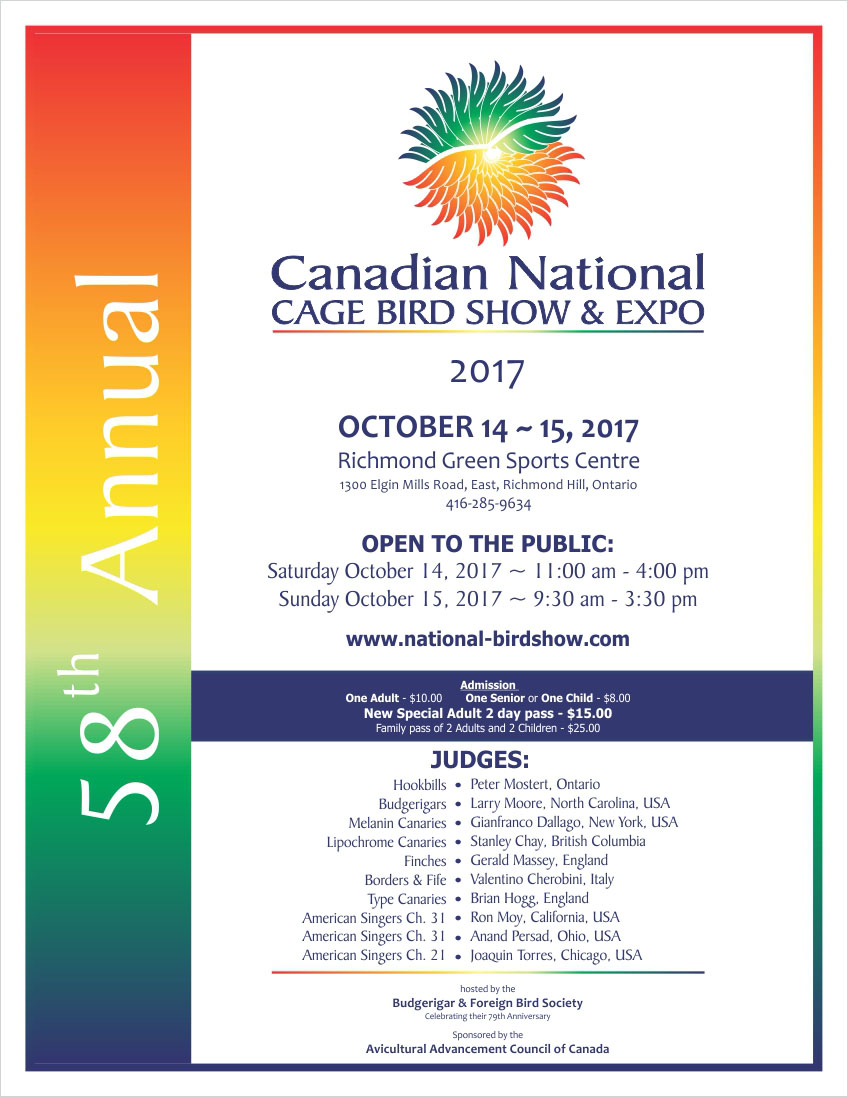 Bird Registration: Friday October 13, 2017 ~ 6:00 pm - 9:00pm
Saturday October 14, 2017~ 7:00 am - 9:00am(strictly enforced)
---
Admission: Adults- $10.00
Special Adult 2 day pass - $15.00
Seniors & Children- $8.00
Family Pass (2 adults & 2 kids)- $25.00
Judging starts at 10:00am
Birds For Sale
Birds may be offered for sale at the Show. The birds must be healthy, in a clean cage, there will be a maximum of 15 birds allowed in the cage, they must have adequate amounts of seed and water available in the cage. To sell any birds, you must purchase a "SALE BIRD LOT" in the sale bird area, the "SALE BIRD LOTS" are 3'long 30" wide and the price is as follows :
1. BFBS club members $30
2. Show Exhibitors $40
3. All others $50
All of your cages MUST fit on the table or you can choose to buy additional tables at the prices listed.
Please note the show manager can without explanation reject birds for any reason if he feels they are a threat to the event.
---
American Singers
Canary Club
of Canada (Chapter 31)

17th Annual Chapter 31 Song Competition
October 14-15, 2017

Richmond Green Sports Center
Click here for Map Judge: Ron Moy, Anand Persad (USA)
Benching date/times: October 13 from 6:00 PM to 9:00 PM
Entry fee: $x.00 per bird *PLUS $25.00 Exhibitors Fee for NON-members
Judging starts: October 14 @ 8:00 AM
Checkout: October 15 @ 3:00 PM (after raffle and bird auction), earlier for long distance (over 100 miles) breeders
For more information, contact Latif Ghousy at 416.710.7753 or email latifghousy@gmail.com

---

19th Cage Bird Show & Sale
Hosted by the Northern Alberta Cage Bird Society
Alberta's Biggest Little Cage Bird Exhibit of Birds from Around the World
September 31st and October 1st, 2017
High Park Community Leauge
11032-154 Street, Edmonton, Alberta Admission $5.00 Bird Entry: Friday, September 30, 6:00 - 9:00 PM
Saturday, October 13, 8:00 - 9:00 AM
Official Judging: Saturday, September 30th, 9:00 – 12:00
Awards Banquet : Saturday, 6:30 pm
Public Viewing: Saturday, September 30th, 12:00 - 5:00 PM and
Public Viewing: Sunday, October 1st, 9:00 - 3:30 PM
Canary Judge: Brian Johannson, British Columbia
Budgerigar,Finch & Hookbill Judge: John Zerafa, Ontario

For more information check our web site at
https://nacbaca.wordpress.com/
Contact : Laszlo at 780-466-4554 or Jean at 780-435-3594
---
---
---
If you know of a show that you would like listed here, please send it to Webmaster with the date, place and show contact name. Thank you.